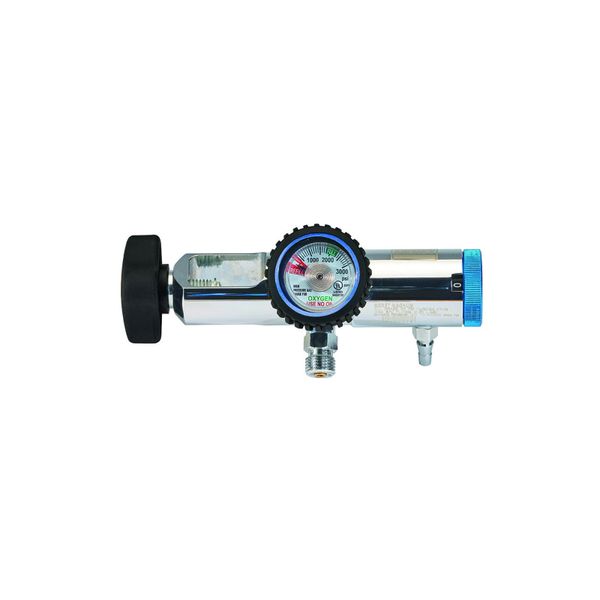 Meret Regulator Magnum
MERET's™ all-brass MAGNUM™ series oxygen regulators incorporate the most advanced regulator technology to deliver the highest level of safety, reliability, durability, and precision flow, and are backed by an industry leading LIFETIME WARRANTY.

MAGNUM™ series uni-body regulators are robust, packing over 2 lbs. of fire resistant high strength solid brass and internal high pressure flow components to ensure safe and dependable performance in the harshest of conditions. An innovative, low profile aluminum pressure gauge with rugged gauge guard protects from breakage and contamination while a rubberized comfort grip hand knob provides an easy and secure connection to the cylinder valve. A laser etched, corrosion resistant chrome plated finish provides additional protection from the elements. This virtually indestructible regulator is backed by a solid LIFETIME WARRANTY under the MERET M4L warranty.

This 0-25 LPM adjustable EMS all brass click style regulator uses a CGA870 connection with a barb outlet, operates at 50 PSI, and the option of 0 or 2 high pressure DISS outlets with check valves.. This regulator can be set to 0, 0.5, 1, 2, 4, 6, 8, 10, 12, 15, 20, or 25 LPM. All flow rate indicators are labeled in decimals for easy reading.

* Solid and safe, robust all brass construction
* Backed by an industry leading M4L LIFETIME WARRANTY
* Aluminum pressure gauge with rugged gauge guard
* Rubberized comfort grip hand knob
* Chrome plated for superior protection in challenging environments
* FDA recommended brass-viton sealer washer
* Solid stainless alignment pins to reduce contaminants
* Sintered 40 micron triple inlet filter
* Durable universal barbed outlet, 0 or 2 DISS outlets with check valves
* 12 Position precision flow
* Serialized regulator identification
* Laser etched identification markings
* Blue anodize aluminum flow control knob

Product Dimensions: 6.5" x 3.5" x 3.5"
Product Weight: 2lbs 1 oz.