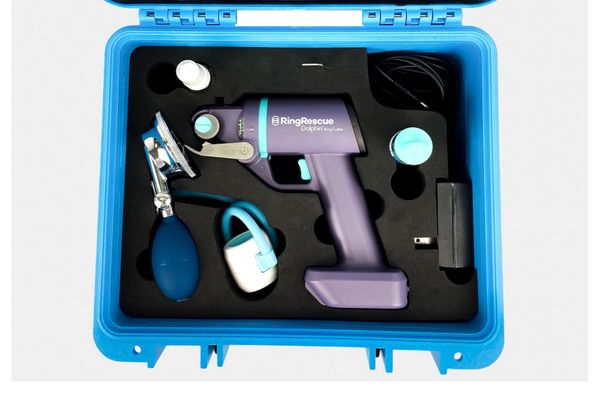 Ring Rescue Kit
Everything you need for removing stuck rings in one place. The Ring Rescue Kit provides you with the most effective medical devices on the market for stuck ring removal.The Ring Rescue Kit makes ring removal easy. From removing the ring intact with the Compression Device, to getting the job done with the Dolphin™️ Ring Cutter, its got you covered. With this Kit you can feel confident you have the tools you need to solve the stuck ring problem safely and efficiently. Lets explore how these tools can benefit your Department...
One AssureCUT Disc ™️ cuts all ring metals

Automatic cutting, the device does all the work

Internal software keeps cutting temperature within a safe range, significantly reducing the risk of thermal burns

Automated guard optimizes cutting performance for the fastest cut possible 

1 person operation makes ring cutting an easy and straightforward process
Replaces manual ring cutters and other non-medical-device ring cutting tools (and the associated injury and liability risks), with a purpose-built medical device.
Kit Includes:
Dolphin™️ Ring Cutter

Compression Device

4 AssureCUT™️ Discs

1 Bottle of Ring Rescue Lubricant 

Power Wall Adapter

Hard shell, water resistant case (14"L x 6.5"W x 12"H)

Step-by-Step Training Videos

$5 Gift Card incentive for registering your devices